☕ Daily gm. Delist your ENS?
Elon buys Twitter - what to expect? ENS domains hot again. Proof raised $10 million. And many more.
Gm gm,
Today's overview is here!
Enjoy!
---
Delist your ENS domains? Our web3 presence will be determined by our wallet activity. And many believe ENS subdomains will change the game. Why? A new scaling system will allow users to put subdomains & records off-chain, which will make the cost of subdomain creation negligible.
We see subdomains more often, and even companies like Budweiser start using them (Budweiser.beer.eth). Moreover, rumors suggest Coinbase will use them to onboard millions of users into web3. For geeks, the full explanation is in the thread below.
---
Otherside by Yuga Labs mint is this Saturday for everyone who completed the KYC verification. It is now confirmed the mint will be in ApeCoin, and Yuga will announce the price later this week. Don't forget to have some ETHs in the wallet to cover the gas if you plan to mint.🙌
The Otherside adventure will begin on 4/30 at 12pm ET, only on
otherside.xyz
. The KYC on
somethingisbrewing.xyz
was to participate in Saturday's mint — only those who KYCed can participate. More details in the 🧵.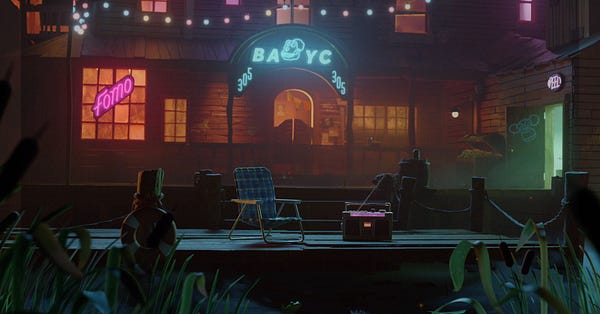 Yuga Labs x Animoca Brands
Something is brewing in the swamp.
somethingisbrewing.xyz
---
Alexis Ohanian invested $10 million in Proof. Alexis is a co-founder of Reddit, a member of ApeCoin DAO, and the husband of tennis player Serena Williams. 
Also, COO of Proof Ryan Carson resigned to build his own NFT fund. The community didn't take this well, and the floor of Moonbirds dropped from 38 ETH to the current 30 ETH. It was a busy day for Proof yesterday.
---
Elon Musk buys Twitter, so what to expect? Elon believes in free speech, crypto, and open protocols. In a press release, he said:
"I also want to make Twitter better than ever by enhancing the product with new features, making the algorithms open source to increase trust, defeating the spam bots, and authenticating all humans. Twitter has tremendous potential – I look forward to working with the company and the community of users to unlock it."
Crypto Twitter is full of bots, and Elon said it is his top priority to remove them.👏👏
---
Akutars are finally revealed. The record sale is 40 ETH. The current floor is 2.3 ETH. OpenSea link here.
---
Hot NFTs
Source: Nansen.ai
Crypto Watchlist
Tweets of the day
Don't get scammed🙏
Bet on great founders💪
Patience and Persistence💙
Have an awesome Tuesday!
- beast
---
Disclaimer: This newsletter is strictly educational and is not investment advice or a solicitation to buy or sell any assets or to make any financial decisions.